Katy's Frogs and Toads
Interesting little critters. If you find any you want for pets, please tansload them to your own backyard. They do jump around a lot. Thanks to Gicky for contributing her frogs to this page. Oh, if any escaped from you, tell me and I'll send them home.
A few frogs added to the bottom of the pond
Aug.18, 2004.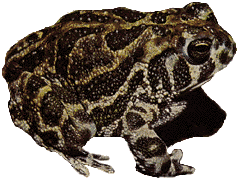 Kermit
no list of frogs would be complete with out Kermie